Feature:
Non-destructive installation
The Honda LOGO Stickers front grill light is suitable for all vehicles. Screw install is suitable for vehicle with vertical bars or grid grill (horizontal bar grill is not suitable). It is stuck on the front grill by two screws and a piece of acrylic plate, which does not damage the vehicle. Non-destructive installation. If you want to install it on the horizontal bar grille or other places on the body, you can choose the 3m tape installation scheme.
Professional custom service
Customize the LOGO. You can customize company / store / organization / personal logo, name, text, and patterns. Please consult customer service for specific customization details.
Worry-free quality
This LED grill badge chooses high-quality acrylic ( polymethyl methacrylate, PMMA ), which has uniform and thorough light transmittance, so that the light of the lamp board is clear and bright. The whole light plate adopts a sealed design, so there is no need to worry about the rain and snow weather will damage the led light board.
Decorate car outlook
Dress up your car's front grille with this LED light Honda LOGO Sticker For Car. Delicate and small light signs will not be too eye-catching, but they can attract the attention of others. Whether it is day or night, it can be seen by people.
LOGO option reference: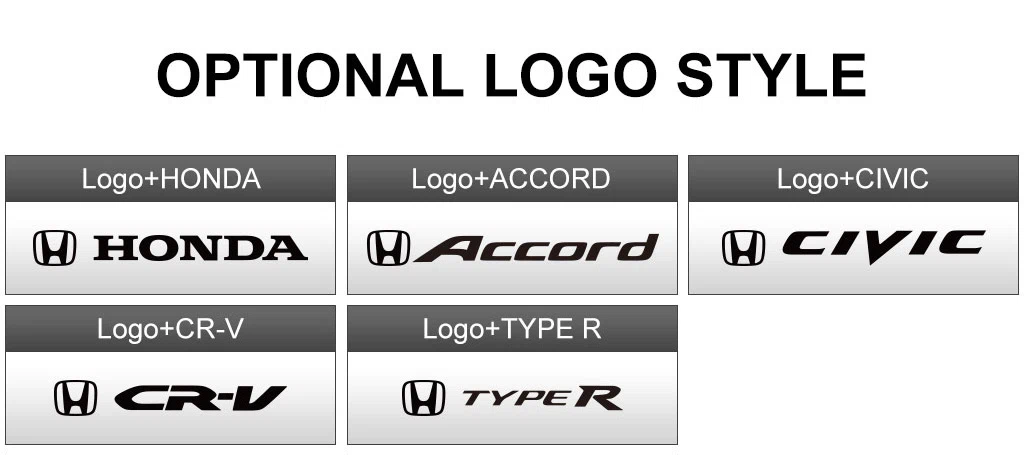 Specifications:
Operating voltage: 12 volts
Available colors: red, white, blue, ice blue, green, pink, RGB Remote Control
Size of LOGO plate:
1) About 150*27*2 mm (length*width* thickness)
2) About 200*36*2 mm (length*width* thickness)
Length of screws: about 60mm
Length of wires: about 600mm
packing list:
1 * LED Badge light Plate
2 * Screws and 2 nuts (3m tape scheme does not include this item)